Overview
The hyperService® Studio is a metadata-driven, silo-free programming environment. hyperServices® are universal programing building blocks that either virtualize and reuse existing application functionality (through atomic hyperServices) or define new application functionality (through composite hyperServices).
Programmers can create new composite hyperServices® by graphically snapping together atomic and other composite hyperServices® and adding new business logic using the comprehensive programming features within the hyperService® Studio.
The Studio supports many breakthrough capabilities for creating new mission-critical software solutions and cross-application, cross-cloud integrations without coding, scripting or code generation. Any user experience development tool can then call NextAxiom's hyperServices® out of the box as standards-based Web Services.
This simplified approach to the challenge of business component development and integration dramatically reduces software complexity, accelerates time-to-deployment, and enables an entirely new level of information agility for your critical cloud, enterprise mobility, SOA, and SaaS initiatives.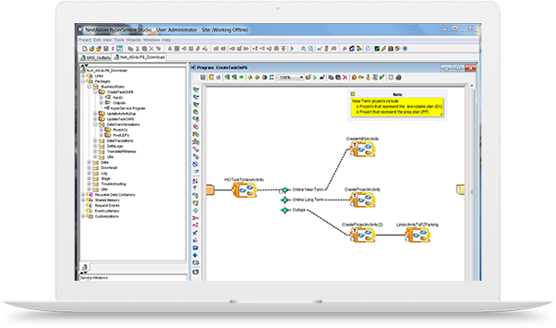 Contact Us
Please fill out the fields below so someone from our Team can get in touch with you. Thank you.
information
NextAxiom® Technology, Inc.
600 Montgomery Street
34th Floor
San Francisco, CA 94111